Top Education Website Development Company in India 2023 - Know Educational Web Design Cost of the Best Company
Updated on 01 January, 2023
We are the Top Education (Educational) Website Development Company in India 2023 that has been immensely providing full-fledged Web Design/Web Development services for Colleges, Universities, Coaching, and Institutes with complete education management systems at the best and most affordable price - let's create stunning educational websites with CodexEra Technology LLP.
In 2019, we have seen a lot of critical situations due to the COVID-19 that has impacted badly everything whether it is personally or professionally. In short, there are huge implications of this pandemic across the world but since the arrival of New Year 2023; we have got vaccines that may crush the pandemic. But, the past year snatched good time from us and given only sorrow – the time has come to find out the best medium to heal such a horrible crisis, for this one and only one thing comes in mind i.e. website, yes it is really the best medium that can transform your business that's why every business owner has been trying to opt for an advanced technology-based tool for instance to have an attractive website/portal to direct deal with potential clients. However, whenever it comes to educational institutions then a school, institute, and university must have a good looking website or web portal to reveal achievement and important announcements to their students.
Education Website Design and Development Services
Well, as an entrant entrepreneur in the educational business (EdTech ), you would really prefer to know the importance of a website even how it will help you to communicate with your students seamlessly. An educational website is more like another website, but the functionalities of the educational website are absolutely different which allows managing admission inquiries, backend process, attendance, exam schedule, and other important activities. The educational website can be built commonly based on two concepts like static and dynamic. Are you confused about what is static and dynamic education websites? Let us narrate about it – the static education website is the website that is built to showcase the information statically with fixed pages, for example, a static website can contain 1-100 pages even more, in this format, you can't generate more pages simply and you won't be able to control over user behaviors by employing some staff while in dynamic education everything would be in your hand in terms of command, deleting, updating and something else, so the dynamic website allows you monitor all the activities which have been happening on your website/portal. A static school/college/university website is also called an impression-based website whose sole purpose is to display information, and there is no need to have a database for the static web pages, whenever you would wish to make a change in the relevant pages you would have to manage it manually unlike dynamic websites.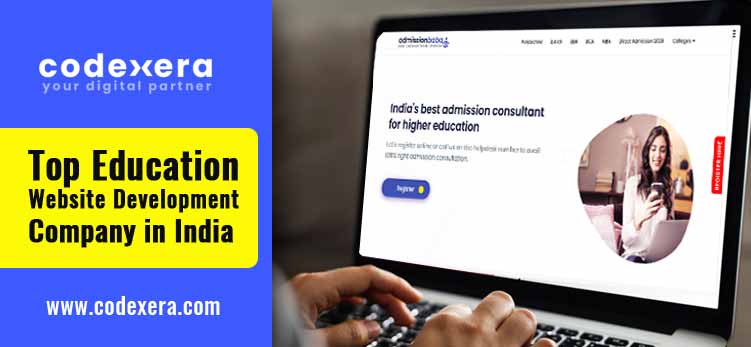 If you're looking for revamp your running educational website or create new website to manage required things online, then CodexEra is pioneer website development company in India that boast deep experience in providing the best services for educational website designing / website development for schools to universities.
Fuel Up Educational Website with Advanced Features
Indeed a professional website has been shaping up the businesses to taste the success or taking them on tracks that (businesses) are or were derailed. We can say that website has become more significant than ever. But, here is an important point which we shouldn't disregard that is hiring the prominent agency that has a penchant for delivering high-quality education website designing/development. Traditionally, folks intend to launch their website and start thinking that they will make more money from the website, but the fact is without investing time and fueling up the website with core features it is impossible to get the desired results.
We have been identified as specialized best education website designing / development company in Delhi NCR, India that always promises to provide modern age stunning looking website at reasonable cost – let's checkout best features to be implemented for the educational website.
Course Search Engine/Functionality
Attractive Custom Icons
Great Typography
100% Responsive Website Development
Lead Generic Form
Lead Management Systems
Consistent Visual
Cool Color Theory
Browser Compatibility
Great Dashboard
Neck to Neck Support
Options for Dynamic / Statics
Video Incorporation as a Background on Home Page of the Website
Animation Effect on Scroll
Flat Design Options, and many more…
Hire Us to Get Distinctive Education Website Design / Development Services in India
Our clientele represents us as the leading education website development company in India. We vitalize the website by putting the best design elements on the websites. We design and develop the education website for any kind of edtech startups, coaching, institute, college, and university with full of passions and a positive attitude.
Frequently Asked Questions
Q. I am planning to launch an education website; can I monetize education website instantly?
Ans. Look! Your thought seems too good, if you have already planned to launch an educational website you should go ahead but expecting prompt results does not fit at all because nothing happens overnight. You can definitely earn money but you have to work consistently and keep patient unless you get the expected outcome.
Q. What is an average cost of making school website in India?
Ans. A good-looking School Website Designing and Development cost in India is between INR 50000 – INR 1000000. Since we would like to apprise you that the cost of school website development may vary based upon the scope of the work. But, if your budget is low then still you can hire us for all types of School Management Systems and School Website Development.
Q. Can I avail only education landing page service from CodexEra?
Ans. Of Course, we have been offering a world-class brilliant landing page for educational organizations with LMS/CRM.
Q. Does CodexEra offer SEO for School?
Q. We're running an education website on WordPress but want to rebuild in another programming language like PHP, can you help us with the same solutions?
Ans. Yes, we can help you in building education website as per your requirements.
You may also like
Best Digital Marketing Company in Delhi NCR
Top Website Ads Banner Design Company in India
Top Matrimonial Website Development Company in India