Updated as on January 1, 2023 - CRM Software/ Application is the most viable tool in order to transform any business into more profit by keeping everything documented (customer's record) and entertaining them according to their needs, but there is still one common question that has been frequently asked like why doesn't every company have CRM so far? Rather than writing more words for this question - in the simple word, most of the businessmen are not aware of the CRM's importance that how the CRM helps in business nurturing. It won't surprise us that customers are the most important factor for all sizes of companies so keeping data in a professional way of the customers is too important to know the overall feedback of each client. Well, CRM Software comes up for grabbing and retaining precious clients, in short, CRM software helps to understand the clients better. CodexEra Technology LLP is tech-savvy and the Best CRM Development Company in Delhi that is providing better solutions for Custom CRM Development at low cost. We have years of experience in CRM Development.
CRM Software
CRM Software is becoming progressively ubiquitous that is commonly built to know the customer's views on products/services that are being offered by the manufacturers or service providers in the business verticals. It is also supposed to be the right approach to understand closely to improve the services straight away. In short, CRM keeps you updated regarding all the expectations of your valuable clients. Today, CRM Software has become one of the core sources for every company to uplift sales growth, with CRM software you can curate all data in one place. If you're looking for the more prevalent CRM software then you may contact us for the effective price as well as good quality enterprise-level CRM Software development solutions. CodexEra Technology LLP is the fastest growing, innovative, and a top CRM Development Company in India. We have the strongest team for developing premium CRM Software to foster business efficiently. With our extensive support, you get win-win CRM Development solutions to skyrocket your business.
Custom CRM Development from Scratch – Start today to accelerate your business for the next level
As you might be aware Customer Relationship Management (CRM) that it is an application or software or tool that supervises the customer's conversations/behaviour which have had between the sales team or channel partners. If you want to build your CRM Software from the scratch, then our team will be helping reading this project in the best way. Our developers are masters in developing the best CRM Software for any kind of business whether they're Startup or enterprise-level companies. We have developed successfully countless CRM Software for our many clients to date by putting in the best efforts. However, before starting the CRM Development we follow the best ethics that help us to deploy the project painlessly. In case, you have decided to have CRM Software for your running business or forthcoming business then look at the following tools which will be provided in CRM Software.
You will be able to access/manage tasks.
You can view leads generated through the digital platform.
You/user will be able to create new tasks and assign to the authorised persons.
Admin/super admin can create new opportunity.
You can manage communication seamlessly.
You can upload datal promptly.
Track the outdated leads to make them mature.
You can check out the customer's feedbacks.
Admin/HR can manage the all the employee's information without any hassles.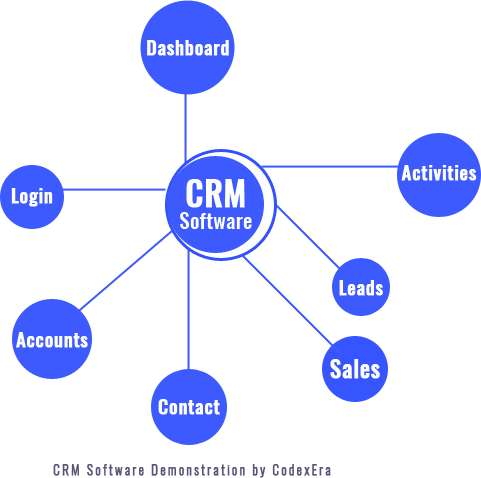 Benefits of CRM Software
If you're planning to start a business and looking for CRM software for your new business will help you to develop custom CRM software at minimum cost. You can reap our best CRM software development services. Well, there are many pros to having CRM Software in the business to meet the business goals. However, we have mentioned a few of the most crucial advantages that glorify about CRM / Customer Relationship Management (CRM) platform.
Key Benefits
More Sales: A good quality CRM helps to increase sales and track the customer's history seamlessly.
Marketing Enhancement: To keep eyes 360-degree view on customers behave to respond accordingly to their requirements.
Excellent Support: CRM is a powerful tool that ensures you to provide tangible support without much pain.
Why to Choose CodexEra for CRM Development? Get to Know the Advantages
Are you looking to combat the sales challenges now? If yes, then you must have your own CRM Software (Application), but you should remember that choosing the Top CRM Development Company could be a little bit pesky, for CRM Development, you may hire us to avail top features offered by us.
Founded with a clear vision to provide high-level service quality, CodexEra Technology LLP is known as the best CRM software development company in Delhi because we adhere to maintaining transparency with our prospective clients. We have been providing a reliable CRM software development service and consultancy to run a business with exponential growth.
Extensive experience in the CRM Development business.
Good quality assurance
100% technical support as we as consultancy service.
Easy to access the CRM application.
Low cost as compared to the other service providers.
Using high-end technology.
Team of reliable techies.
100% custom CRM development.
Third party CRM integration.
Employee training.
Email integration.
Covering all the domains for CRM development like Education, Real Estate, Manufacturing, Fintech, Hospital, Travel/Hospitality, and many more…
Types of CRM Software
Sales CRM Software
HR CRM Software
Billing CRM Software
Educational CRM Software
Real Estate CRM Software
Inventory CRM Software
---
Frequently Asked Questions on CRM Software
Q. What does CRM stand for?
Ans. CRM is an application or software that lets you synchronize digitally generated leads via its automation system. With CRM application you can assess what is the strong and weak point of your services – the CRM also provides the ultimate solutions to managing the relationship with your patrons.
Q. Who needs to have CRM Software?
Ans. For one who is running either an offline or an online business, the CRM software will be required to track customers' information, it is a perfect source to grip customer behavior to gain more profits – leads can be easily managed by the CRM application.
Q. Why you need to choose CodexEra Technology LLP for CRM Development? Get to know the advantages
Ans. Since CRM is used extensively in all sizes of businesses to enhance service quality by interacting with prospective customers. However, developing customized CRM Software takes too much time till deployment – coming on the well pointed question like how much does a CRM Software Development cost in India, revealing the cost of CRM Development is really tough without knowing the requirements – so building CRM software for business is absolutely right choice, you can directly consult us to avail the best price for CRM Development.
Q. What are the basic things to deploy a CRM Software online?
Ans. Once the CRM Software is developed successfully, the final stage comes to deploy the code online. In order to deploy the code, you need to have professional servers like VPS and the cloud. However, you can also set up your own server which is called a dedicated server.